The Big Book of Amiga Hardware
Probably (was) the largest Amiga hardware reference on the net!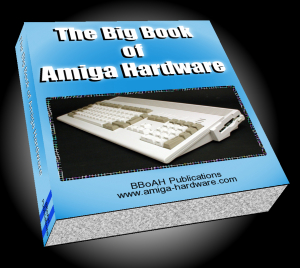 The Big Book of Amiga Hardware (BBoAH) is an Amiga hardware reference site that was founded and actively maintained here from Jan 1999 until Sep 2006. Since 2006 it has been actively maintained by several other members of the Amiga community, at other locations. From 2006 the original site was left here as a courtesy, however it was finally shutdown in Apr 2013. For futher information, please see the FAQs.
Please visit one of these alternatives to find what you're looking for:
http://www.bigbookofamigahardware.com - Maintained by Steen Jessen
http://www.bboah-works.de - A German edition maintained by 'Amiga Resistance Team'

Email me (Ian Chapman) at: ian DOT chapman AT amiga-hardware DOT com